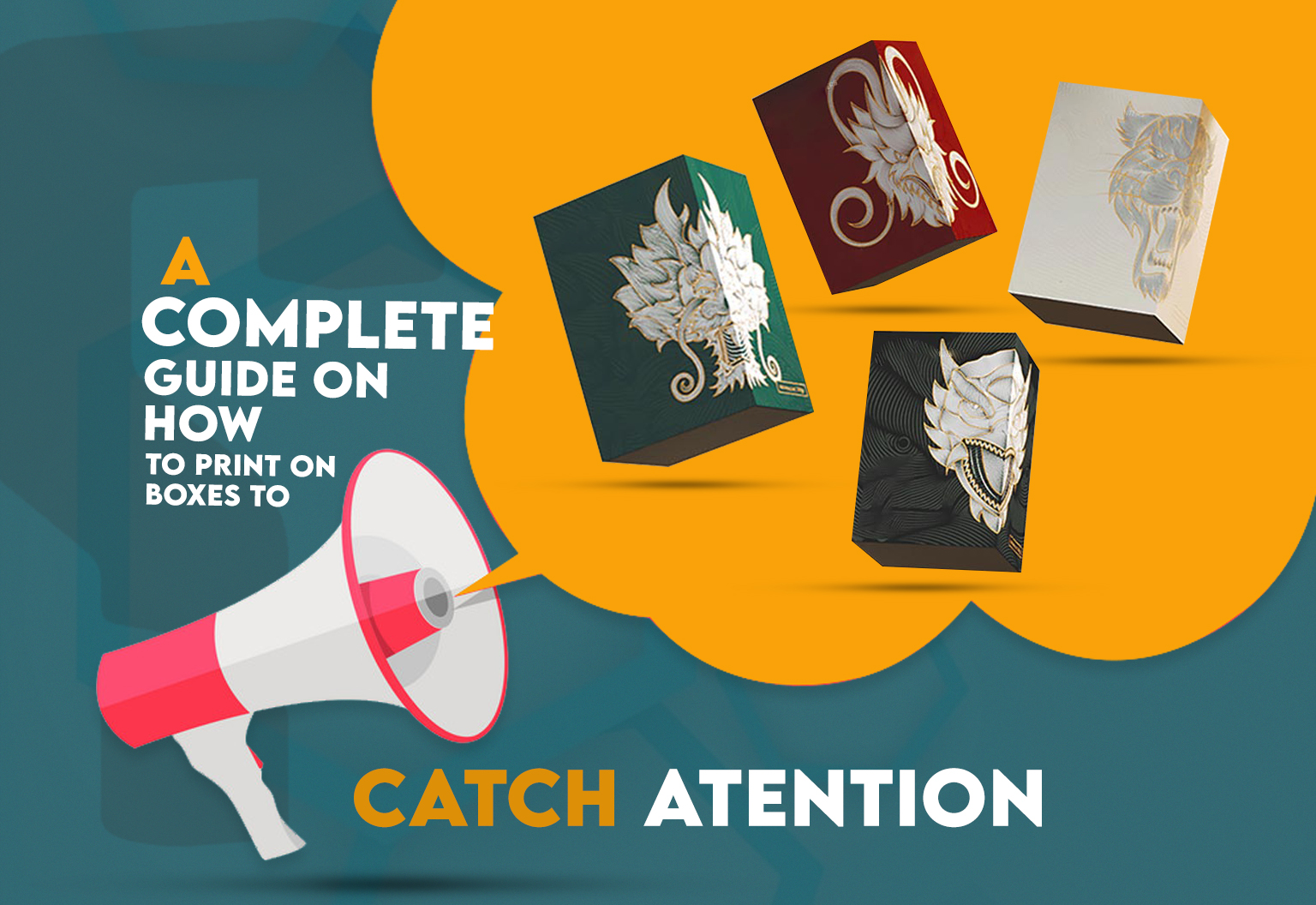 A Complete Guide On How to Print On Boxes to Catch Attention
Printing the boxes you use to pack your products is essential. In fact, this is a very important part of the product presentation process. By printing on your boxes, you can ensure that their products stand out among other products and make a great first impression. Better yet, the printing style allows you to promote your brand further. Yes, there are many benefits your business can get by printing on the boxes. In this post, we will reveal a complete guide on how to print on boxes to catch more attention.
Use a Custom Box Printer to Highlight Your Product's Features
Using a custom box printer will help you highlight your product's features. Even better, you can also create a unique look that will draw attention to your product. In addition, you can print a variety of information on the boxes, including product descriptions, brand logo, and other details. This will help to create an eye-catching presentation that will draw customers to your product.
So, here is what you should do!
To highlight a product's features, you can start by printing a clear and concise description of the product
Give customers an idea of what the product is and what it offers
Include visuals such as logos, photos, and graphics to draw attention to your product
Make your product more memorable and help to create a lasting impression
In addition to printing information and visuals, you can also use the boxes to create a unique packaging experience. You can use different colors, materials, and shapes for the boxes to make them stand out. This will, in the end, help to create a unique look that will draw customers towards your product.
Finally, you can also use printed boxes to create an interactive experience by adding additional features. For instance, you can provide coupons, special offers, or promotional materials. This will help to engage customers and encourage them to purchase your product. In the end, you will be able to create a memorable packaging experience that will draw customers to your product and highlight its features.
How to Print On Cardboard Boxes and Make Your Products Appealing?
Again, printing on the boxes is the most effective way to make your products look more appealing. Whether you are selling a product online or in retail stores, printing your boxes can help make your products more visible. But wait, how to print on cardboard boxes to make your products look more appealing in customer's eyes?
Here are some tips you can try out!
Choose the right size for your custom boxes
Make sure that each box fits the product it is intended to hold. Plus, ensure that the box is large enough to accommodate any additional packaging materials.
Choose the right material for printing
Of course, you must select a durable material that will stand up to wear and tear. The right material will help a lot in your shipping and handling processes.
You can create your own artwork or hire a professional designer to help you create a design that stands out.
Select the right printing method
Depending on the type of design you have chosen, you may want to consider using digital printing, screen printing, or lithography.
Consider using a protective coating
If you are shipping fragile products, consider adding a protective coating to your boxes. This will help protect the products and keep them looking their best.
Select a unique finishing option
Glossy and matte finishing options will give your boxes a professional look. Or else, you can also choose lamination, and foils can help make your products in the boxes stand out.
What Product Details Should You Print with a Box Printer?
It is important to include any relevant information that will help customers identify, use, and dispose of the product properly. When it comes to grabbing customers' attention, you need to provide essential product details. Well, a box printer will help a lot in this case.
So, remember to print the details such as:
A unique brand name and a stunning logo
A trendy product name and complete description
Barcode or QR code
Ingredients or contents list
Contact information for customer service
Safety warnings and usage instructions
Recycling or disposal information
Nutritional information (for food products)
Additionally, printing the brand and product details on the box can enhance brand recognition. In the end, it will help you build a strong brand identity.
What Is the Most Printable Material for Product Packaging Printers?
The most commonly used and printable material for product packaging printers is cardboard. Cardboard material is durable, lightweight, and versatile. Thus, all the features make this material ideal for packaging various products.
Most importantly, cardboard is very printable with various printing techniques. You can even choose from offset printing, digital printing, or screen printing. Even better, you can customize boxes from cardboard to suit different design requirements.
Depending on your needs and preferences, you can also choose other packaging materials, such as:
Kraft paper
Corrugated board
Rigid paperboard
Bux board
Folding carton stock
Keep in mind that the choice of material will depend on the type of product you need to pack. Besides, you also need to focus on the desired level of protection and the appearance you want for the box. Plus, you must also consider some factors such as the cost, sustainability, and printability of the material when deciding.
What Type of Printing Technique Will Be Best for Box Printing?
We can never say that there is the best printing technique for box printing. Instead, we must say that it all will depend on several factors, such as:
The type of material you use to produce the box
How do you want your box to look like
Your spending budget limit
So, to make it easier for you to decide, below are some common and popular printing techniques you can choose!
Offset printing is a cost-effective option for large-scale printing projects. This technique requires a one-time plate setup. This printing technique will let you get high-quality results with sharp images and vibrant colors.
Digital printing is a versatile and cost-effective printing technique. This technique allows for quick and easy printing of small quantities. This method is ideal for printing box with logo, as it eliminates the need for a plate setup.
Flexography is a printing technique that uses flexible plates. This is the best option for printing on corrugated and other types of rough surface materials. Plus, it is the most cost-effective option for high-volume printing projects.
Screen printing is a manual printing technique that is ideal for printing large areas of solid color. This is a cost-effective option for printing boxes with simple designs. Accordingly, you might have seen this technique for printing custom packaging for food and beverage products.
Letterpress printing is a classic printing technique. The method uses a relief printing process to produce high-quality results. This technique is ideal for printing on thicker paper stocks. Plus, this is the perfect option for printing elegant and detailed designs.
Do note that it is important to choose the right printing technique based on the specific requirements of your custom box project. To get a better understanding, you can work with a professional to determine the best printing technique you should choose.
How to Print Logo On Boxes to Help Branding Strategy?
Indeed, printing your logo on boxes can play a significant role in branding. In fact, we can say that the overall printing style can really help you perform a perfect branding strategy. How?
Increase brand recognition
Customized printing on boxes with the brand's name, logo, and colors can help increase brand recognition and build brand identity.
Create a professional appearance
High-quality printing on your boxes helps you create a professional appearance. This can help to establish the brand as a quality and trustworthy company.
Printing your boxes helps to communicate your important brand messages. You can eventually describe your company's values, mission, and unique selling points.
Enhance unboxing experience
Printer box can also enhance the unboxing experience for customers. By using creative designs and eye-catching graphics, you can make the unboxing experience more memorable and enjoyable. This will lead to improved customer engagement and satisfaction.
Providing a high-quality unboxing experience can help build customer loyalty. After all, we know how modern customers always love to associate the brand with positive experiences.
In brief, printer for boxes can be an effective way to enhance a brand's image and create a memorable unboxing experience for customers. All the effort will drive brand recognition, customer loyalty, and, ultimately, sales. Well, this is something your brand must always pay attention to!
In Summary
Yes, there is so much more you can get by printing on your boxes innovatively. Hopefully, the guide we revealed about how to print on boxes here helps you get a better understanding. To start with your printing project, you can contact CustomProductBoxes today!