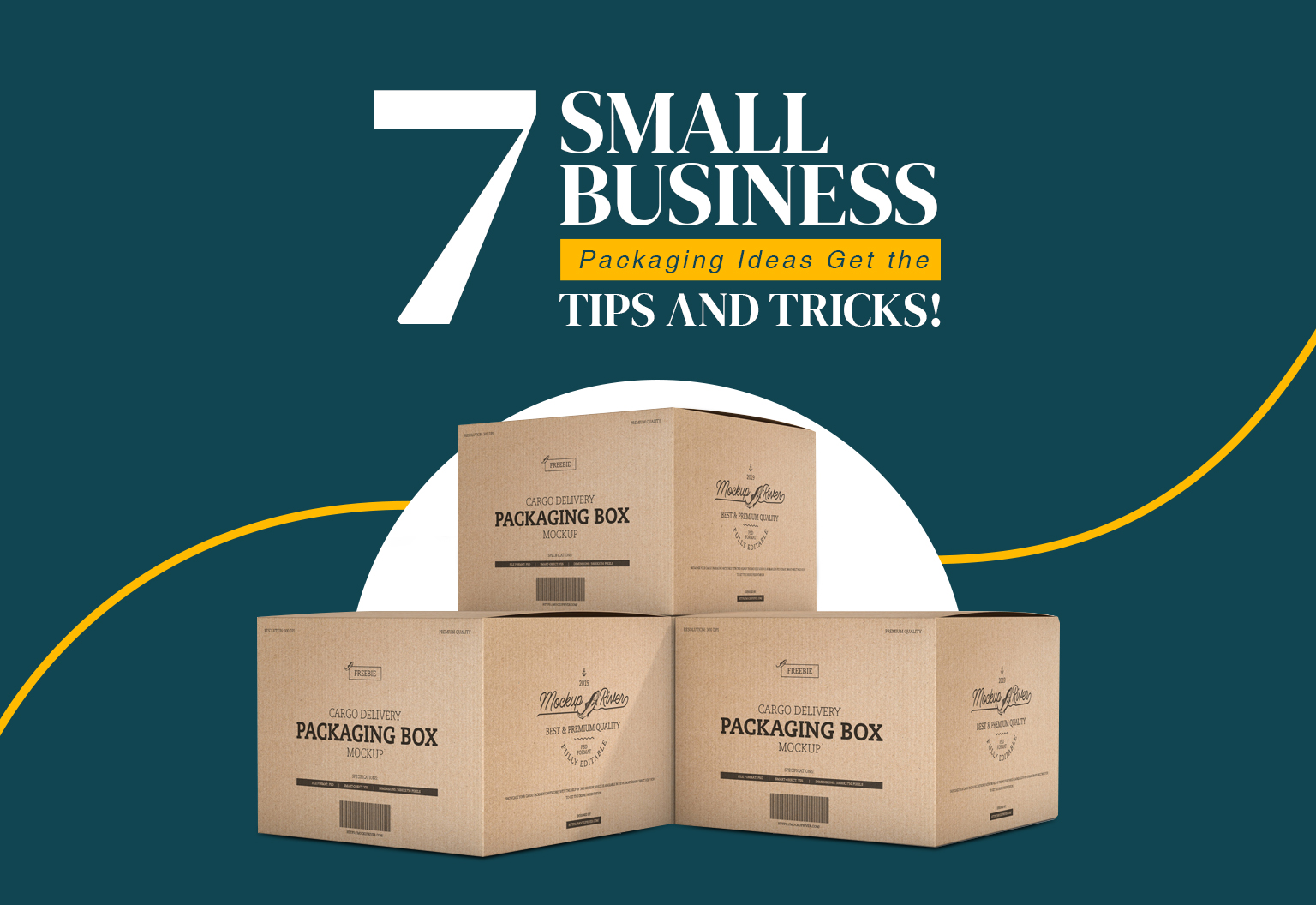 7 Small Business Packaging Ideas Get the Tips and Tricks!
Even in these modern days, we have to admit that people still judge based on the product's appearance. No matter what product you try to sell, product appearance is important. The product appearance is delivered through your product packaging. So, good or bad, your product packaging plays its role here. Huge businesses with a high budget might not need to worry about the cost of getting exclusive product packaging. But what about those small businesses? Well, if you run a small business, you should not be worried either. There are 7 creative small business packaging ideas you can try out to make things easier for you. Getting interested? Check out the tips and tricks below!
Custom Packaging for Small Business – Why Is It So Important?
In the simplest words, custom packaging for small business is essential because it will be the first impression of your brand. Your product packaging is influential whether you want to grab new customers or maintain the current ones.
Makes an Impact on Brand Recognition
See the fact is, when customers receive a product from your company, the first thing they see is your product packaging. This is why premium quality packaging can eventually make a significant impact on your brand recognition.
Plays a Significant Part in Customer Experience
Right after customers purchase your products, they must interact with the packaging to get to the products inside. They will admire your brand if your packaging design is visually engaging, informative, and compelling. At this point, you give customers a memorable experience before they even get their hands on the product they ordered.
On the other hand, if your product packaging looks ugly, customers will not be excited to receive your product at their front door. Or else, no customer will want to pick up your product on retail packaging boxes shelves. In other words, your product packaging plays a significant part in customer experience. Thus, this is not something you can ever ignore!
Product Packaging Influences Customers' Purchasing Decisions
Your product packaging is the one that influences customers. Whether they will purchase your product or not, it depends on your packaging. If they see your product on the store shelf, its packaging has to compliment your product inside.
In the worst-case scenario, if your packaging is poor or uninspiring, it will only cost you money in the long run. Thus, having cute packaging for small business is one of the best ways to guarantee your products fly off the shelves.
7 Tips and Tricks to Design the Best Packaging for Small Business!
Running a small business requires you to know the importance of packing your product smartly and attractively. Additionally, your packaging should match consistently with your brand. So, let's break down some tips and tricks to design the best packaging for small business!
Your Design Should Be On-Brand
The first and most important thing you need to do is ensure that your packaging design is "on-brand." Now what does on-brand mean here?
This means that your product packaging should:
Have the same color scheme or visual aesthetic as your product inside and your brand identity
Come with matching color with your brand logo and other materials of your brand
Fit your brand's core mission and unique identity
Now let's make an example that you are offering eco-friendly products. In this regard, being "green" is the main part of your brand's identity. In this context, it will be awkward if you ship your products in huge packaging boxes with lots of plastic waste.
In other words, you need to consider your brand identity here. Accordingly, also think about what it means to your target customers. Then you can come up with packaging solutions that fit your brand identity.
Some other important things you should also consider include:
The typography style
The visual graphics
The color combinations
Additionally, you need to consider other visual aspects that already define your brand identity. Then, you should apply those aspects when designing small business product packaging.
Always Prioritize Delivering a Positive Customer Experience
When it comes to discussing packaging ideas for small business, you can actually take a good marketing approach. Yes, you can do this by prioritizing delivering positive customer experiences with your brand when designing your packaging. How to do this?
Let Your Packaging Speaks Directly to Customers
There are plenty of space on product packaging you can use to speak directly to your target customers.
For example, you can provide some essentials such as:
Describe your business goals or state you brand mission
The benefits your product offers to customers
A warmth, heart-touching message to appreciate customers
Other things in your mind
Show Gratitude to Your Customers
One of the easiest ways to build up customer loyalty is by showing your gratitude to your beloved customers. The good thing is that you can do this right on your small business packaging boxes. After all, a "thank you" note is never a bad idea.
Honesty Always Works to Winning More Customers
When you decide how to design your product packaging, remember that honesty is the main key to winning more customers. In these modern days, we can see how customers become susceptible to signs of the inauthenticity of any brand.
Thus, to avoid customers' disappointment, you should prevent your packaging design from being:
Oversell your product or present the entire lie facts
Represent your product as something else, for instance, providing wrong graphics of your product's capabilities
Consider Attractive Packaging Ideas for Small Items
Whether you need packaging ideas for small items or you need to market your huge products, your packaging should be highly attractive and compelling. For this, you need to consider some elements below.
Deciding the color before anything else is important. Color can be a visual communicator. For instance, red represents excitement and the significance of passion or love. On the other hand, green reminds customers of nature.
Do note that your color design element can be the differentiator between you and competitors in the same target market.
Another essential element you should think about is structural design. For example, you should ensure that your product packaging is easy to open! Complicated packaging can ruin the customers' excitement when purchasing your product from any store.
Include Detailed Information On Cute Packaging Ideas for Shipping
Without you realizing it, you can and should use your product packaging to expose all the detailed information. For example, you can provide all the product's benefits to help sell that product more.
In the context of cute packaging ideas for shipping, you might need to put some essential information on your product packaging, such as:
Some regulations according to state laws
Safety warnings
Other guidelines to use your product
Whatever information you need to provide, make sure that it is detailed, easy to find, and easy to read.
Sustainable Packaging Is Perfect for Small Business Packaging Ideas
Do you know that you can do your brand a big favor and get more customers if you move to sustainable packaging?
Yes, sustainable packaging is perfect for small business packaging ideas. Product packaging made of materials such as biodegradable cardboard or kraft is better than plastic packaging.
What's more, an eco-friendly product packaging design can significantly impact the sustainability scores of your business. This sustainable packaging can eventually help you remove a few packaging materials, like plastic, stickers, and so on. In simple words, you should consider taking this step ASAP.
But why do modern customers love to purchase products with sustainable packaging?
Modern customers today particularly appreciate products that come in sustainable packaging due to some reasons. What are the reasons? Keep on reading!
Sustainable packaging helps them feel that they are doing their part in saving the environment
This sustainable packaging helps customers to reduce the waste they have to deal with in their homes
Overall, you will find no disadvantage in switching to sustainable packaging as soon as possible!
Try to Keep Your Brand's Messages Simple
If you wish to add your brand's messages, keep them simple and straightforward. This is one of the most effective cute packaging ideas for small business actually. Writing too much on your product packaging will only defeat the purpose of the visual language. In the worst-case scenarios, this overcrowded packaging might turn those customers away from your brand. Well, this is surely not a good sign.
End Notes
Without any doubt, how you pack your product can significantly impact how many customers will love to purchase your products. Additionally, it will influence what they actually expect from your product. In the end, it will eventually affect how long your brand will stay in their minds. Thus, eye-catching and attractive product packaging is always a good idea.
Hopefully, the 7 tips and tricks for small business packaging ideas above will help you to design the right packaging for your products. If you wish to design your product packaging with experts, you can contact Custom Product Boxes now.
Good luck with your design!